Why to study in Kharkiv? Kharkiv is the second-largest city in Ukraine. Located in the north-east of the country, it is the largest city of the Slobozhanshchyna historical region. The city has a population of about 1.5 million people.
Presently, Kharkiv operates as a major cultural, scientific, educational, transport and industrial centre of Ukraine, with 60 scientific institutes[citation needed], 30 higher education universities and institutions, 6 museums, 7 theatres and 80 libraries.
Kharkiv is the second biggest educational center in Ukraine and this city is known as the city of students and youth.
There are 38 higher educational institutions in Kharkiv, including state and private universities, academies and specialized institutes. About 300 000 students study and live in Kharkiv and about 12 000 out of them are foreign students. Higher education possibilities are very versatile in Kharkiv and students can get bachelor, specialist, master or post-graduate degree training in various fields of studies, such as medicine, engineering, law art etc.
The most popular landmark of Kharkiv is the Freedom Square (Ploshcha Svobody), the third largest city square in Europe, and it takes the 7th place when speaking about the world.
Thanks to the European Football Championship in 2012, which was hosted by Poland and Ukraine, the city has a modern reconstructed airport and the city has Cyrillic and English signs in the city center.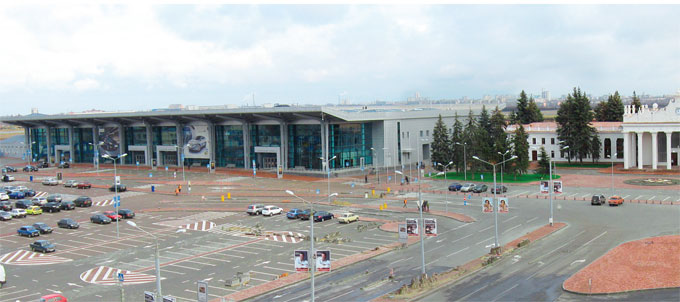 Kharkiv International Airport (HRK), located 12.5km south-east of city center is the easiest way to arrive the city. There are daily flights to/from Kiev, the capital and two weekly roundtrip flights to Odessa.
Although international air traffic is disrupted with the start of last year's political disruption, life returns normal. Austrian Airlines resumes its flights between Kharkiv and Vienna. From April 2015, daily flights between Kharkiv and Vienna will be operated regularly. Turkey's Pegasus Airlines already flies between Istanbul and Kharkiv. Currently the flights in HRK are served to/from such countries as: Armenia, Austria, Bulgaria, Poland, Egypt, Georgia, Israel, Montenegro, Turkey, UAE (United Arab Emirates).

Recreation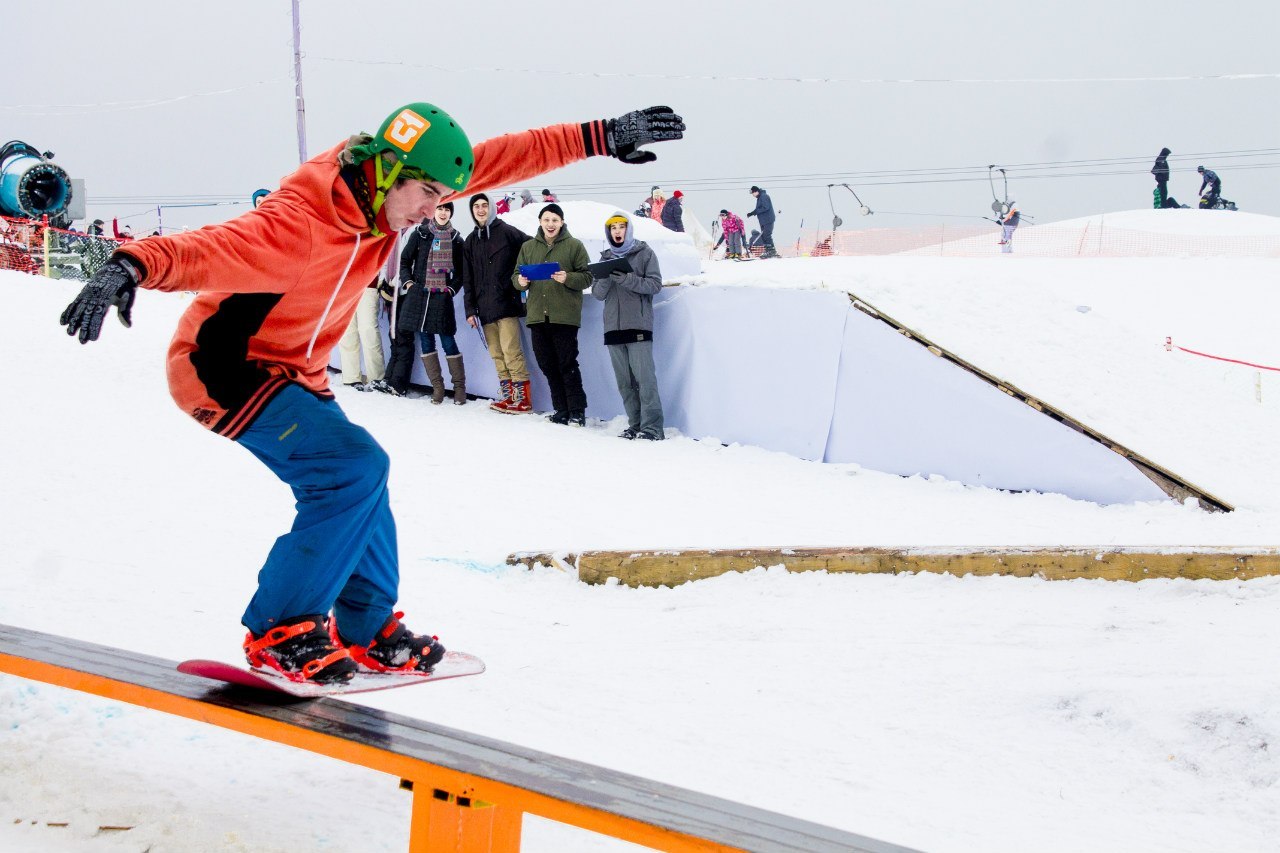 You can ski in Kharkiv. Kharkiv Switzerland (Kharkovskaya Shveytsariya) is located at the very north of the city. It has 2 track for 300 meters, 2 ski lifts, trails tubing, training slope for beginners. The complex has a ski school for learning to ski and snowboarding for children and adults, extreme park, rental equipment (skis, snowboards, boots – children and adults kits).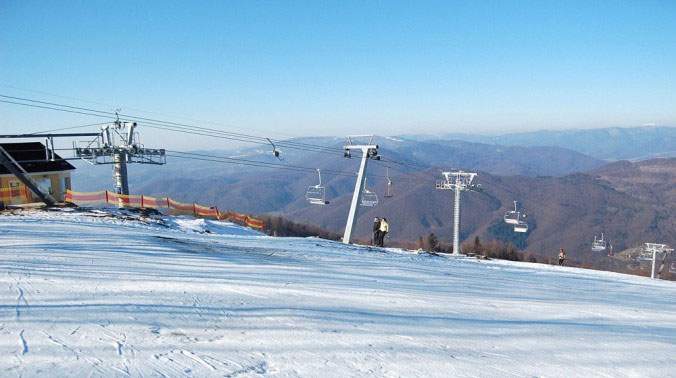 Alpine valley (Alpiyskaya dolina) mountain-ski resort was founded in 2003. It gets covered with an artificial snow in December and the skiing season opens on time regardless of the weather. During summer time the territory of the alpine valley is a great place for nature retreat. Also you can rest in a cozy café, fish, play paintball, make shashlyk etc. It locates in Zmievskoy district, near Borovaya village, in 15 km from the city.
Skating rinks
DAFI (Ice Hall)
Trade Center "Dafi"
Geroyev Truda, 9
st.m.Geroyev Truda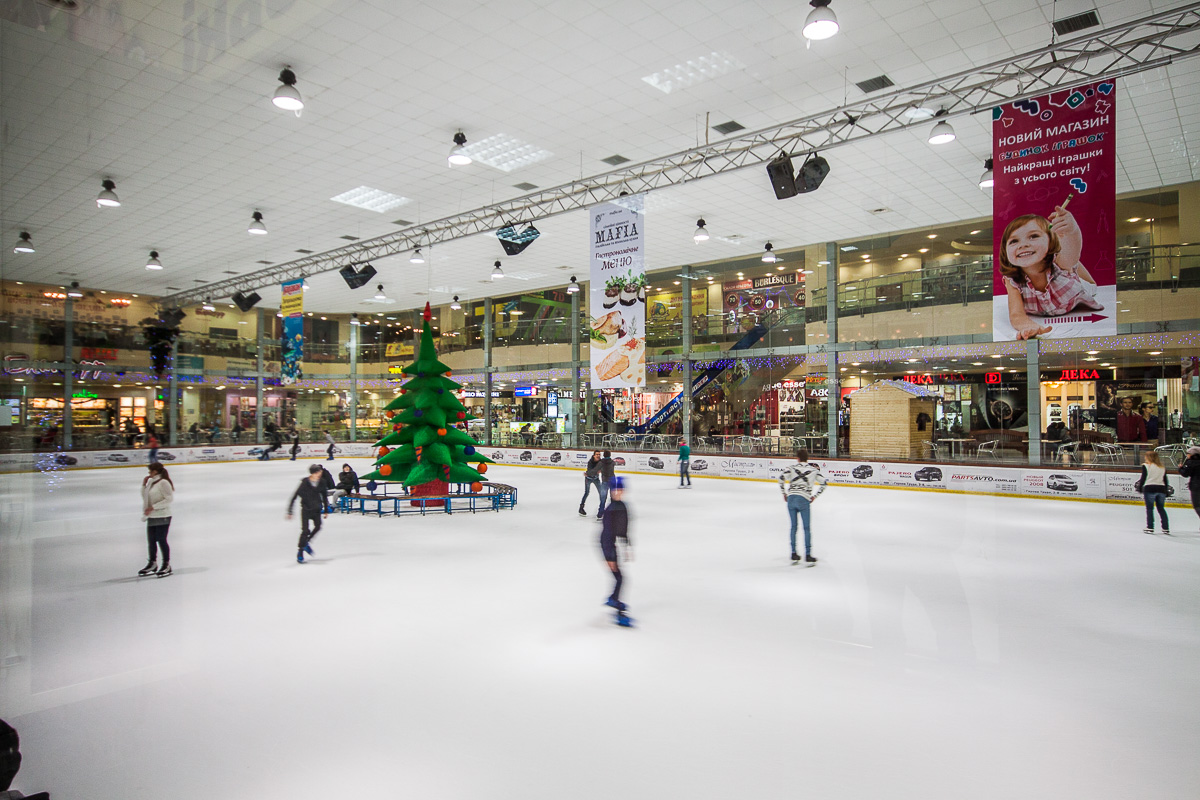 KARAVAN
Trade Center "Karavan" (next to "Dafi")
st.m.Geroyev Truda
A big rink surrounded by glass walls so any visitor of the trade center can enjoy your skating :). The ice is worse than on the rest of rinks.
SHATO LEDO
Crossroads of Akademika Pavlova and Saltovskoe shose
Akademika Pavlova, 44 B
Nice atmosphere, french music and cafe right near the rink make this place extra popular among couples with children and teens. If you are not that good in skating you can ask a personal trainer to help you.
Parks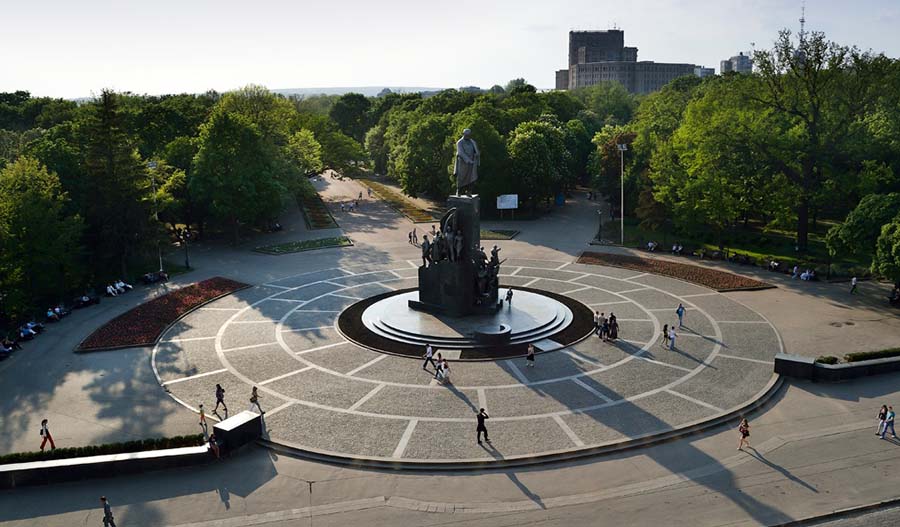 Park or Sad Shevchenko is located in the center of Kharkov between Sumskaya, Rymarskaya, Klochkovskaya streets and Svobody square. It was founded in 1804-1805 by Vasiliy Karazin, the founder of prominent Kharkov University. The park is divided into two parts: landscape park and botanical garden. Moreover at the territory of the park is located the oldest Zoo in Ukraine.
Numerous monuments adorn this wonderful park. The monument to Vasiliy Karazin was erected in 1907 and is located at the north part of the park near the National University. The bronze monument to Taras Shevchenko is situated along Sumskaya street. It was set up in 1935. The general height of it is 16,5 meters and represents Taras Shevchenko along with 16 other sculptures.
Botanical Garden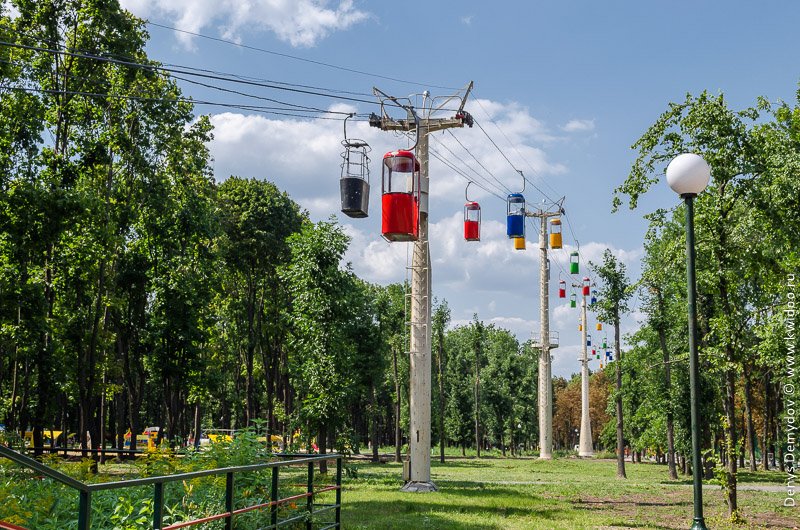 The Kharkov cable way (Zip line) was built in 1971. It starts its way at Gorky Park (behind the theater) and is 1387 meters long. This cable way (Call it a zip line) runs through picturesque vistas over the green forest tracts of Gorky Park, Lesopark, Shatilovka and Pavlovo Pole to the last stop "Pavlovo Pole". it's awesome and very romantic PLUS it smells good and the air is fresh.
The line has 124 passenger cabins with carrying capacity 180 kilograms each (no more than 2 adults per one cabin). The trip lasts 18 minutes, and slowly strolls above the canopy at 8 to 26 meters above the ground.
Gorky Central Park
Maxim Gorky Central Park for Culture and Recreation is a Kharkiv city park consisting of over 130 hectares of land. It is bounded in the southern corner by Vesnina Street in the east – Sumy Street to the north – the so-called elite private settlement construction, and in the west – Dynamo street corner and Novgorodska street.
Gorky Park in Kharkiv has landed at Tripadvisors Top-25 Amusement Parks ( Europe) Travellers choice list.


Theaters


Kharkiv Opera and Ballet Theatre named after N.Lysenko
25, Sumska St., Kharkiv, 61057 Tel: (0572) 47-72-16,47-72-16
Fax: (0572) 47-80-64
E-mail: th@vl.kharkov.ua

Ukrainian Drama Theatre named after T.Shevchenko
9, Sumska St., Kharkiv, 61057 Tel: (0572) 43-40-45, 43-40-55
Fax: (0572) 43-40-45
Public Transport.
Kharkiv Metro Map
With almost 2 million inhabitants, Kharkiv (Khar'kov in Russian) is Ukraine's second largest city, situated in the eastern part of the country. Initially a combined network of existing suburban and new urban lines was planned during the 1960's, but when the first tunnel sections were finished common 2.7 m wide rolling stock was ordered for exclusive metro use.
The Kharkiv Metro was inaugurated on 23 August 1975 (10.4 km with 8 stations). It connects three railway and three major bus stations.
Stations in the city centre are very deep, less so in outer areas. Similarly to the Moscow or Kyiv metros, most stations are beautiful underground palaces. Platform length is 100 m for 5-car-trains on all lines.
Between Kyivs'ka and Barabashova, the Saltivs'ka Line crosses the Kharkiv river on a 988 m covered bridge.
The network has a total length of about 38.5 km with 30 stations (2016)